Grill Cleaning & Repair
Grill Cleaning Before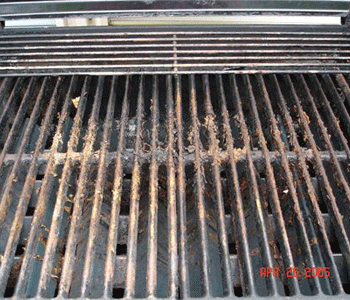 Grill Cleaning After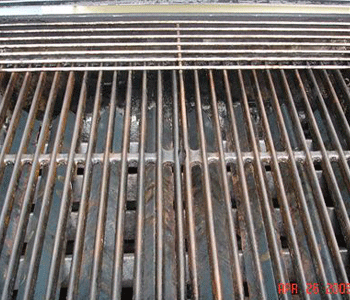 Clean & Tune Up:
Tune up Package – Included with every cleaning to assure all grill parts are working properly. If any parts are found to not working at their peak performance, our techs will recommend the appropriate replacements. See our Replacement of Parts section below.
Most cleanings take approximately an hour to 1-1/2 hours. They do not move your grill or make a mess.
The following steps are performed during the cleaning process:
Clean the cooking grids with FDA approved food-safe citrus based cleaner.
Completely scrape the inside of the grill to get all the loose grease and crust from the grill.
Vacuum all the grease out of the bottom of the grill and clean the grease tray.
Wipe the entire grill from top to bottom, inside and out with a degreaser cleaner. if it is a stainless steel, buff the grill with polish.
Take the burners out of the grill, scrub them down, drill out the port holes if necessary, and blow air through them to clean them from inside out.
Check the orifices to make sure there is no blockage, like spider webs or insect nests.
Clean the contact points of the electrode to make sure they spark good.
Replace any parts that may need to be replaced. (If recommended prior to cleaning)
Grill is then put back together and covered up

Home Tank Exchange Rates
Who wants to throw a 20lb cylinder in their car and drive around? Let us help~ Call us today to have The Grill Doctor deliver an L.P. tank right to your house. We will even hook it up for you. Contact us for a quote.

Need an old grill removed?
Most garbage companies will not pick up your old grill. Call us and we will pick up your grill for you. Contact us for a quote.

Your grill isn't working like new?
We have access to replacement parts for most brands! Let us see what we can do to get your grill back to as close to new as it will ever be!

We do warranty work as well!
The Grill Doctor is an authorized service dealer for many of the major grill brands. Weber, TEC, Viking, DCS, just to name a few.
Quality
The Grill Doctor offers an extensive line of quality name-brand grills, outdoor kitchens, outdoor fireplaces, patio heaters, and accessories.
Service
The Grill Doctor services will help you protect your investment and enhance your cooking experience! Our products stay sold!
Family Owned
We are a family owned and operated business; specializing in residential cleaning and repair of grills, gas logs, and patio heaters.
Experience
Our team has over 40 years combined experience in the gas grill industry. Our technicians are factory trained and insured to professionally serve you.
Reviews
I used the Grill Doctor for an outdoor kitchen which included a Big Green Egg, Twin Eagles Grill, fridge, trash and recycle bins, and storage. They built a bar on one side and the kitchen on the other. It turned out even better than expected. They even matched my patio that was previously installed two years ago. The granite counter tops are wonderful. And his landscaper cleaned up and spread new mulch. They are awesome and I would definitely use them again!

Michael F.
Excellent customer service and knowledge of product...Outstanding job all around! Highly recommended!

Justine
I would highly recommend The Grill Doctor to all of my family and friends!

Jim G.
...Did a great job cleaning and repairing my TEC grill. They found the parts and my grill works great.

John X.
They did a good job and were able to get the DCS parts, which at the time were hard to find. had some renovations done to my DSC grill when i moved in to my new house, including the conversion from LP to natural gas.

Samuel G.
They explained the process and answered all my questions over the phone. They were able to come out in january on one of the few days of nice weather. The technicians completed the work and explained the results. They stayed around and witnessed the test run. In addition, about a week later, my wife thought she smelled a strong odor of gas near the deck. She use the "soapy water bubble" test to find the leak at the valve. We shut off the gas and called the company. They came right out the next day and repaired the valve connection. Thank guys.

William B.
Very responsive, punctual and professional. Cleaned the grill and ordered new burners for me. They came out and installed the burners once they arrived Cleaned the grill and ordered and replaced the burner.

Anupam B.
The Grill Doctor performed a thorough cleaning of our grill, including the ports, allowing our grill to cook evenly again. The results were excellent. My husband and were 100% satisfied, and we plan to hire The Grill Doctor again to perform our 2014 grill cleaning.

Margie B.
Grill Cleaning
Grill maintenance is a must!. Outdoor grills were involved in an average of 7,200 home fires per year, including 3,000 structure fires and 4,200 outdoor fires annually. Leak or break was the leading factor contributing to gas grill fires. We are more than happy to come out and clean and maintain your grill for you so you're not bothered by this burden. During routine cleanings we also inspect ALL components of your grill for leaks and failing parts. From the supply line and the manifold, to the valves, burners, and electrical equipment. Each part is assessed by a technician and discussed with the home owner (you) to plan a course of action for possible repairs and safety hazzards. This first class cleaning and inspection will provide you with another great season of outdoor living. Contact us about contract cleanings!
Repairs
From grills to gas logs, We have access to genuine oem parts for most major brands. Coupled with our certified technicians and white glove customer service you can't go wrong with giving us a call. We will come to you, assess the proposed issues, order the correct parts, and install them. It's a hassle free one stop shop with The Grill Doctor!
Gas Logs
Gas logs for your home fireplaces are a great alternative to burning wood. Lets face it, using wood to burn during the winter months can be costly, tiresome, and some times dangerous. let The Grill Doctor install a full gas log set in your home or add to your outdoor living space. We offer the best in technology with auto piloted systems and adjustable flame burners