Grill Cleaning & Repair
Grill Cleaning Before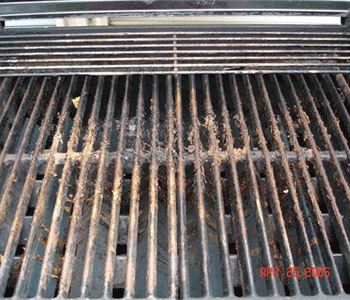 Grill Cleaning After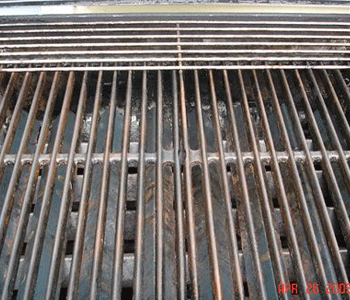 Clean & Tune Up:
Tune up Package – Included with every cleaning to assure all grill parts are working properly. If any parts are found to not working at their peak performance, our techs will recommend the appropriate replacements. See our Replacement of Parts section below.
Most cleanings take approximately an hour to 1-1/2 hours. They do not move your grill or make a mess.
The following steps are performed during the cleaning process:
Clean the cooking grids with FDA approved food-safe citrus based cleaner.
Completely scrape the inside of the grill to get all the loose grease and crust from the grill.
Vacuum all the grease out of the bottom of the grill and clean the grease tray.
Wipe the entire grill from top to bottom, inside and out with a degreaser cleaner. if it is a stainless steel, buff the grill with polish.
Take the burners out of the grill, scrub them down, drill out the port holes if necessary, and blow air through them to clean them from inside out.
Check the orifices to make sure there is no blockage, like spider webs or insect nests.
Clean the contact points of the electrode to make sure they spark good.
Replace any parts that may need to be replaced. (If recommended prior to cleaning)
Grill is then put back together and covered up

Home Tank Exchange Rates
Who wants to throw a 20lb cylinder in their car and drive around? Let us help~ Call us today to have The Grill Doctor deliver an L.P. tank right to your house. We will even hook it up for you.
Exchange - $32.99 New Tank - $54.99

Need an old grill removed?
Most garbage companies will not pick up your old grill. Call us and we will pick up your grill for you. Rates starting at $80.00.

Your grill isn't working like new?
We have access to replacement parts for most brands! Let us see what we can do to get your grill back to as close to new as it will ever be!

We do warranty work as well!
The Grill Doctor is an authorized service dealer for many of the major grill brands. Weber, TEC, Viking, DCS, just to name a few.